AusPollen Grass Gazers
How to become a Grass Gazers Citizen Scientist
Brief background and aim
Grass Gazer Citizen Scientists will be documenting flowering grasses around Brisbane to help with research undertaken by the QUT Allergy Research Group. The project's aim is to better understand the spatial and temporal distribution of grass pollen sources in Brisbane (grass pollen is a major outdoor allergen). Further background information.
What Grass Gazers Citizen Scientists are documenting
All observations of grass in South East Queensland can be included. This page has more info about grasses and a guide to some of the common grasses in Brisbane (pdf).
The most useful observations of flowering grasses will include date, location, grass species, and four other details we have called the GG_FAHM observational fields. More about the GG_FAHM fields (pdf).
How to make an observation
Make observations using  iNaturalist Australia.  Overview of steps:
1. join iNaturalist
2. make iNaturalist observations of flowering grasses (plants in the Poaceae family), within the South East QLD area (turn location ON or you can add GPS coordinates manually)
3. add the four GG_FAHM details to your grass observations
Notes: The iNaturalist mobile App will automatically record basic observation details: photos, date, location, and will give a suggestion of identification.  All observation of grasses in the area will automatically be included in the Grass Gazers project.
Step 1: How to join iNaturalist and download the iNaturalist App onto your mobile device.  
Before joining please read this overview of iNaturalist  and also the community guidelines for behaviour. There is also a quick (84 second) general video intro to iNaturalist.
To join you can create a stand-alone account or create an account using your Facebook or Google authentication.
The iNaturalist app works on Android and Apple devices. Find it in the Playstore or the App Store, and look for the green bird.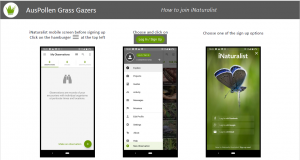 Step 2: Make iNaturalist observations of flowering grasses
Make an observation online or in the App. Make sure to take the best photos: focus, contrast, details! How to take the best photos (pdf)
Step 3: Adding the special Grass Gazers Observational Fields (in the App or online)
Each Grass Gazer observation needs manual addition of 4 important details:  the four GG_FAHM observational fields
These details must be manually entered by the Citizen Scientist, either by using the 'Notes' field in the App, or by using the 'Observational Fields' online in iNaturalist.
All about the GG_FAHM observational Fields (pdf)
Adding GG_FAHM fields in the App.
Adding GG_FAHM fields online